Sri Lanka is a small island country with an area of 65,610km2. Colombo is the commercial capital and the largest city. It has one of the highest road density in South Asia, which is about 1.8 road kilometers per every square kilometer of land. Almost all the Sri Lankan travel destinations can be accessed by roads. You can access the majority of these destinations by public transport services, either by bus or train. This makes Sri Lanka one of the best destination for backpackers. Visitors can find convenient taxi services in most of the cities. The aim of this article is to give travelers a brief overview of the transportation system of Sri Lanka.
Road Network
Sri Lanka is a left driving country. It has a well-spread road network with a total length of about 117,093km as per the year 2016. The road density is 1.8 km of roads per sq. km of land area (Source: Mid – Year Fiscal Position Report 2016, Ministry of Finance, Sri Lanka).  It is the backbone of the transportation system of Sri Lanka.
The National Road Network about 12,300 km of roads which is consisted of Expressways (E), A and B class roads. The Road Development Authority is managing the A, B, and E class roads (National Road Network). The Provincial Authorities and Local Governments are managing all other minor roads.
Almost all the roads in the National Road network is paved and well maintained. These roads are well spread to connect most of the cities in Sri Lanka. The Expressway network, currently consisting of 169 km is a high mobility network. Expressways are toll roads and you can drive with the maximum speed of 100 kmph.
Except on expressways, if not limited by speed signs, the maximum allowed speed is 70 kmph in Sri Lanka.
You can read more about "Sri Lanka Road Network" here.
Buses are Playing a Vital role in the Transportation System
Buses are the cheapest most available mode of the transportation system in Sri Lanka. The service is available even to the remotest corner of the country. Buses are operated by both the Sri Lanka Transport Board (Government) and private bus owners. Private buses are operated under the route permits issued by the government. The long-distance buses are operated on 40-50 kmph.
Generally, Friday evening and Saturday the Colombo outbound buses are really crowded. The same situation is there on Colombo inbound buses on Sunday and Monday morning. In peak hours also the buses are very crowded and operated at very low speed on town areas due to traffic congestions. Therefore the travelers who expect to use public transport are advised to avoid these time periods.
Sri Lanka Transport Board (SLTB) buses
SLTB serves on both inter-provincial and intra-provincial routes. They provide the service even on unprofitable routes and times, especially at night times which are unattractive to private sector operators. Majority of these buses are not much comfortable compared to private sector buses. Especially those buses run in rural areas generate a lot of noise and most of them do not have headrests.
SLTB also operate luxury buses on expressways.
Visit the SLTB website to find more information about bus routes, distance, fares, and timetables.
You can reserve SLTB buses on some routes through their SLTB EXPRESS website or mobile app.
Inter-provincial privately-owned buses
Mainly there are two types of bus routes, namely "Inter-Provincial" and "Intra-Provincial". The Inter-Provincial buses are regulated by the National Transport Commission (Central Government). In other words, these are long-distance buses.
The Inter-Provincial buses are categorized into 4 categories based on the service quality, namely Normal, Semi-Luxury, Luxury (A/C), and Supper-Luxury (A/C). You can identify these buses by the small logo of the National Transport Commission on the bottom right corner of the destination board. The destination boards are differentiated by colors and service category codes (N, S, A/C, and XL) as shown in Figure 1.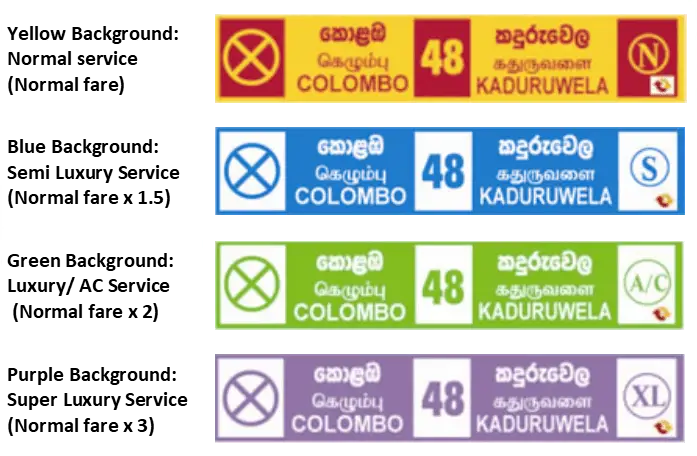 Intra-Provincial privately-owned buses
The Intra-Provincial buses are regulated by the relevant Provincial Bus Passenger Transport Authorities.  these buses are doing a really important job in terms of accessibility. The accessibility to rural areas are provided by these buses are buses operated by SLTB.
However this the lowest quality of service compared to all other modes and services. It is really time-consuming to travel by these buses and the journey speed is below 20 kmph most of the time. Poor control of regulatory authorities has led these bus owners to operate these buses arbitrarily. Most of them stop their service at evening and only SLTB buses are operated at night time on most of the routes.
Rail Transportation System
Sri Lanka Railway (SLR) itself attract tourist due to the scenic routes. The railway infrastructures are old and operated at a very low speed compared to modern train systems. Especially the upcountry railways still operated with tablet systems.
The railway network spread over the country connecting the main cities of the country's nine provinces and, the Colombo Fort railway station is the hub.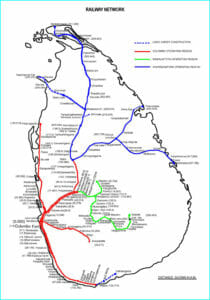 SLR owns and maintains 1561km of rail tracks and, operates approximately 396 trains which include 67 Long-Distance and 16 Intercity trains and carries about 3.72 Million passengers daily.
The Sri Lanka railway network passes scenic landscapes—particularly the Colombo-Badulla main line, which hugs the country's steep highlands. The Colombo-Baddula train attracts a lot of tourist due to this reason. The famous Demodara Nine Arches Bridge also located on this line.
Train Schedule
The train schedules are available at SLR website. You can find the available trains based on date, duration, and origin-destination stations.
Train Ticket Reservation
You can reserve 1st class and 2nd class seats on many intercity express trains. Reservation can be done from 30 days before the date of journey.
Tickets can be reserved any of the following methods.
Best Routes and Trains for Tourists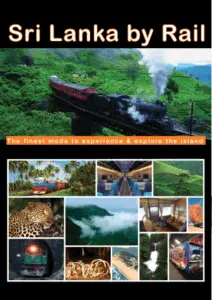 If you're someone who is traveling for pleasure and want to soak in the beauty of the hill country, then the train ride is definitely for you! The route to upcountry called Main Line starts from Colombo and traverse through Kandy, Nuwara Eliya and end in Badulla. The scenic route to Badulla is via a ten-hour long train ride on 'Podi Manike' or 'Udarata Manike'. The section up to Rambukkana from Colombo fort does not have much tourist things. After the Rambukkana Station, the route getting better.
The Coast Line (also referred to as Southern Line or Coastal Line) is running along the coast. You can access many famous beaches easily by this line.
You can find all the station details here.
Always make a booking for the 1st class observation saloons, which are very popular. The  2nd class seats of A/C trains are also recommended, however, there are only a few A/C trains.
Generally, Friday evening and Saturday the Colombo outbound trains are really crowded. The same situation is there on Colombo inbound trains on Sunday and Monday morning. Most of the times, all the seats are reserved on these trains before the last two weeks. Therefore it is recommended to travel on weekdays.
Paratransit
In addition to the above route based public transport services, there are a number of paratransit services are available in Sri Lanka. The three-wheelers (tuk-tuk) are the most available mode of these kinds in every corner of Sri Lanka. Other than the three-wheelers, you can also hire a few other types of vehicles depending on your purpose.
Three-Wheeler (Tuk-Tuk)
You can find a three-wheeler within a few minutes, almost from anywhere in the country. Even though the service is currently not regulated by the government, it provides a very valuable service to the transportation system of the country.
Since the public transport is time-consuming for short distance and limited in accessibility the three-wheelers provide a great job in short distance transportation. They know how to avoid traffic congestion and will find the destination easily.
However, their risky driving behavior and discipline have become a major issue in both urban and rural areas. Therefore it is advisable to avoid bad drivers.
Normally they charge 60 LKR for the first kilometer and charge 35-50 LKR for each additional kilometer. Some three-wheel drivers expect some higher fare from foreign tourist. So, use your bargaining skills to agree with fares before starts the journey. The three-wheelers waiting around tourist destinations and near hotels expect higher fairs, so try to find a three-wheeler somewhat away from those locations.
Most of the three-wheelers around Colombo have fare meters. Always try to find a metered three-wheeler to avoid fare discrepancies. Three-wheeler which has fare meters display a board on top of the three-wheeler or on the windshield. There are some three-wheelers which have those boards, but does not operate with fare meters or they have been broken. So, if it is not working, ask them to start the fare meter when starting the journey.
There are a few mobile apps that provide real-time three-wheel booking. PickMe is the most famous company among them. They provide a reliable service compared to all others. You can use their mobile app to book a three-wheeler. They also provide may other vehicles types and visit their website for more information.
Other Taxi Services
There are many rental car services available throughout the country. You can hire them with or without a driver. Vehicles are varying with small Indian budget cars to luxury vehicles.
If you are looking for a taxi first discuss with your hotel, sometimes they have some agreements with taxi services and will arrange your taxi.
Mobile Apps
There are a few mobile apps that you can book your vehicles. Most of these mobile apps are limited to Western Province, mainly to Colombo District.
PickMe and Uber are the most famous apps.
List of Taxi Operators in Sri Lanka
The "Sri Lanka Tourism Promotion Bureau" maintaining a list of registered taxi operators. You can access this list at their official travel site here.
The UK's Best Car Hire Website, Rentalcars.com also provide their service in Sri Lanka. They also have an award-winning mobile app.
This post is written to give you an overview of the transportation system of Sri Lanka. Here we have only provided the information about the land transportation system. However, Sri Lanka also offers many water-based activities too. The country is surrounded by the warm waters of the Indian Ocean and has a collection of coral reefs, a magnificent array of exotic fish, and ancient shipwrecks. So it offers ocean-based experiences that are unmatched anywhere else in the world. We will give you more details about water-based tourism activities in another post.  Sri Lanka also has few domestic flights. However, that is not economical for most of the tourists.
Do not forget to share your experience on Sri Lanka transportation system as a traveler in the comment section below.